Imagine yourself riding your motorcycle, feet on the highway pegs, flowing down California's Pacific Coast Highway at sunset, winding through the 318 curves of the Tail of the Dragon in Deals Gap, shooting down Spearfish Canyon Road in the Black Hills or just slowing down to ride through small town America on a warm spring day. Think about all the upshifting, downshifting and clutching going on during your ride.

Now imagine you have the Pingel Electric Speed Shifter installed - You can keep your feet up, your hands gripped firmly on the bars, and all you have to do to shift is push the buttons on your handlebar control – Easy, just like the name says. The unit really puts more fun into your riding experience. You don't lose the ability to shift manually, but you'll never want to go back to it because you'll be having too much fun!

Pull up to a red light, the light turns green, you grab a handful of throttle and rocket through the gears faster than even the best racer can shift manually! Everyone else is left in your dust. When you go on those relaxing rides through the hills and curves, everyone else will be exercising their left hand the entire time while you relax and enjoy the scenery thanks to your Electric Speed Shifter. You may never want to shift manually again.

We have had customers comment that they like clutching and shifting, that an automatic shifter seems somewhat lazy, or that it must just be for old folks. However, it isn't about any of that. It is about adding another dimension to motorcycle riding, an altogether new form of fun to be had!

Improve your everyday riding experience – install a Pingel Electric Speed Shifter on your motorcycle.

Pingel Enterprise, Inc. owners, Wayne & Donna are motorcycle enthusiasts that not only design and manufacture the products, but use them as well. Here are a few words from Donna, "Riding my V-Rod with the Electric Speed Shifter is a blast. When I am at a stop sign and want to speed through the gears at full throttle, I can - just like that, no comparison to the manual shifting. And when I want to just ride nice and easy, I can do that too. My husband rides a 2005 H-D Classic with an S&S 124" and Barnett Scorpion clutch along with his Electric Speed Shifter and he has just as much fun. (Well, he likes speeding through the gears just a little more than I do). We enjoy riding through the Black Hills and Southwestern Wisconsin of which are both more enjoyable with the Electric Speed Shifter."
These kits are designed for full or partial throttle "on" clutchless up shifting with a single push of the button. Down shifting is also achieved by a push of the downshift button. Clutch use is required for starting and stopping only. Suited for Sport Bikes, Drag Bikes, Customs, Cruisers, and Touring Bikes, these kits are also the perfect match for male and female riders who own bikes that require a lot of hand strength to pull in the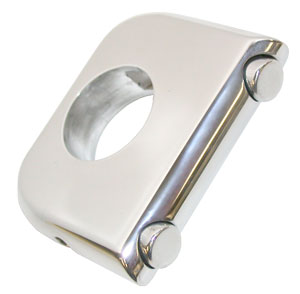 clutch lever, typically found on H-D models. OEM shifting ability is retained even after installation.

Pingel Electric Speed Shifter kits include a dual button handlebar control, a shift cylinder plated with a lustrous chrome finish, bolt-on shift cylinder support bracket and the state of the art control module which sends a quick and reliable signal from the button control to the shift cylinder without any delay. Also included is the ignition kill module which momentarily interrupts the ignition coils, and step-by-step instructions with photos for easy installation.

We have videos here showing many of our shifters in operation and with each kit, where available.